These Five Habits Will Really Help You Enjoy Your Family More
Does your extended family have good habits for how they relate to each other?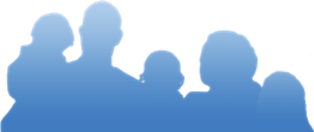 Today, I am thinking about extended families as they relate to one another. These relationships include parents, children, in-laws, aunts, uncles and cousins. Of course, I don't want to leave out my new role of grandparent. Regardless of our roles, we have to relate to one another if we are going to have relationship.
How do these people get along and experience the kind of family relationships that lead to joy instead of misunderstandings, resentments, and frustrations?
Families need to practice the habit of being dependable.
A part of being dependable is learning to be on time. Such a habit communicates that you respect another's time. Some people are habitually late. This can become very frustrating to a family when meals, birthday parties, etc. are delayed because of the late relative. You can almost feel the frustration, especially when the late comers laugh about their lateness. Constant lateness often communicates a lack of respect for everyone else's time.
Families need to practice the habit of returning what they borrow from one another.
You are at the store with your sister-in-law. She is about to go through the check out line when she turns to you and asks to borrow $20. Later, you express your frustration to your spouse that your sister-in-law never seems to have money with her at the store. Your spouse responds, "You can kiss that $20 good-bye! You will never see that money again." You realize that he is right. She rarely repays money that she "borrows" and you feel somewhat resentful toward her for that.
Families should not have to chase down other family members in order to be reimbursed or to get their belongings back. Some people borrow the weed-eater and then fail to return it. Some borrow articles of clothing and don't give them back. Some borrow dishes, tools, sports equipments, books, cd's, etc. and for some reason don't return them. This gets very frustrating and can create resentment in families.
Families need to practice the habit of simple courtesies.
Do you really need to keep answering your phone when you are at a family dinner with your parents, your siblings and nieces and nephews? Do you really need to text at the dinner table when your family is together? Do you really need to spend all of your time watching television when your children and grandchildren come to your house for the first time in four months?
Extended families might find that common courtesies such as saying, "please," "thank you," "I appreciate you for doing this," will go a long way toward building a positive atmosphere when families are together.
Families need to practice the habit of taking no one for granted.
Far too often families have a way of taking one another for granted. For example, in some families, young parents assume that the grandparents should always be willing to babysit their young children. While other couples may have to find (and pay for) a babysitter, there are couples who expect their parents to be willing and available to keep their children. Of course these grandparents are often willing to do this, if for no other reason, than to spend time with their grandchildren. However, this gets very old when grandparents feel they are being taken for granted.
Likewise, some parents believe their adult children should always be available to do whatever they have planned. Perhaps these parents call one evening inviting their children over for dinner that weekend. Some adult children feel as if their parents expect them to be present or they will be upset.
There are some parents who assume that if they go out to eat, their adult children should pay for it. (After all, the kids are doing well financially while mom and dad may be on a fixed income.) Now that is fine if they have this agreement. The problem is in assuming this should happen each time they go to a restaurant. Likewise, there are adult children who seem to think that whenever mom or dad are present, they should pick up the check. These kinds of assumptions can create resentment and frustration over the years.
When families are together over Christmas, does everyone offer to help with expenses? Or do we assume that someone else is taking care of it? Think of the food that is consumed when families are together for several days during the Christmas season. Family members should look for opportunities to contribute and not just take for granted that someone else is paying for this.
Families need to practice the habit of being attentive to one another.
I believe that most families would say they want to be attentive to family members. It is the little things, however, that often leave us feeling as if we are not that valuable to one another. For example, when a person does not return the telephone calls of family members, this is very frustrating. Yet it is also disheartening when you see how quickly this same person returns the phone calls of their good friends. When we consistently fail to respond to e-mails, texts, phone calls, etc., we communicate something to our family. Often family members feel as if they are not valued.
In some families, the same person seems to take the initiative to communicate with the others. What does this say to our families when when make no effort to stay in touch, stay connected, or express care and interest in one another's lives?
Question:
What additional habit would you add to this list?
Categories: Family
Add a Facebook Comment
2 Responses
Families need to practice the habit of reverence. Without this virtue all relationships deteriorate. Beyond simple courtesy, a sense of reverence for life especially for the human family, leads to mutual respect, recognition of the other's independence from us and value before God. Families can hallow the name of God when they hallow the names and individuality of each other.

by Charlie Coil on Jul 28, 2011 at 5:10 pm

Charlie, this is very good. You are right and like the way you express this.

by Jim Martin on Jul 29, 2011 at 8:07 pm