Being a parent is probably one of the most difficult things I've ever done. About the time you realize what you should have done during the last phase of your children's lives, they have moved on to the next phase.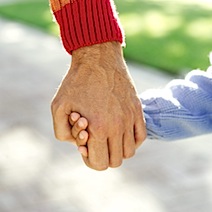 Being a parent is also very humbling. I still have much to learn about being a parent to my children. My children are now 28 and 24, and I continue to learn how to be a parent to two adult children. When our children were young, I read, listened to audio/video presentations on parenting, and watched other parents in order to learn. Again, I learned so much from just watching other parents. Periodically, I asked some of these parents questions about child rearing.
I have observed a few things in parents today which encourage me greatly. One evening, Charlotte and I were talking about a young family at our church. We have been in their home and around their children on numerous occasions. Watching them with their children was an encouraging experience. On the other hand, I have observed a few things which cause me concern.

What gives me concern:

1. A mom and dad who seem to think they have got this parenting thing down. There are some people who have been parents for a few years who almost seem to think they are a cut above other young parents. Sometimes they will have read one book on parenting and now see that book as the definitive work on parenting. No reason to read anything else or listen to anyone else. After all, they have read the book (not referring to the Bible). Contrast this spirit to the person who is humble and is always wanting to learn. Parenting does have a way of humbling many of us. It sure humbled me!.


2. A mom and dad who have basically yielded control of their family to their children. This family has become child centered (much to the detriment of the child). Whatever this child wants, this child gets. This happens regardless of how many other people are inconvenienced by the desire of these parents to please this child (or children) — at all costs. The child is the one who loses most in this arrangement.
3. A mom and dad who think that whatever their children do is cute, precious, special, etc. For example, here is a small child who is climbing across the pews or chairs after the Sunday morning assembly. The mother says, "Oh, he has so much pent up energy after our worship service is over." Far better to say, "Son, stop walking on those pews. Get off! We don't do this at home!" Some behaviors are cute and others are inappropriate. We do our church a huge favor when we teach them the difference.

Question:
What causes you concern as you observe parents with their children — in Wal-Mart, in your church, in your neighborhood, etc.?