Are there times when these two words describe you?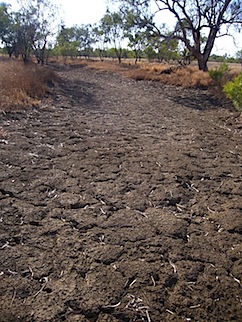 Spiritually dry.
I suspect that most of us experience this at various times.
There is a creek that runs along the edge of our property line. Much of the time, there is water in this creek. However, during the hot Texas summer, the creek will often dry up. In fact, it will be so dry that the creek bed cracks due to the lack of rain and intense heat of the blazing sun.
There may be times when your soul feels parched and depleted.
There are often a number of factors that may be at work to create this sense of dryness. In addressing this, however, it is important to begin with your own heart.
Remember the story of Samson (Judges 16)? Part of his vow to God was not to cut his hair. However, the Philistine woman, Delilah, wore him down and he finally told her the secret of his strength. In the middle of the night when he was asleep, she cut his hair. As a result, he lost his strength. He ignored his covenant with God (symbolized by the vow he made regarding his hair) and lost his strength.
Whenever I experience a period of dryness, I need to ask at some point, "Have I ignored my covenant with God?" Of course, this is not always true. However, maybe one place to begin is with my own repentance. Unfortunately, this is the last possibility some people consider.
Darryl Tippens, in his fine book Pilgrim Heart, writes:
Our inability to confess our obvious and hidden failures greatly damages our spiritual lives and our credibility. Our witness rings hollow. Our carefully packaged faith that hides faults haunts us and angers others. When things go awry, as they will, it becomes second nature to blame others rather than take responsibility. Thus, Christians can reside in communities where the truth is rarely spoken and where disappointment, bitterness, cynicism, and anger simmer for years. Finally the day comes when the frustration explodes. Nearly everyone is surprised at the intensity of the blow-up. What happened and why?

Often the explosion is the inevitable consequence of Christians not telling the truth of their lives – hurts over their troubled marriages, the disappointment with parents and children, their sadness and anger over harsh and unfair words spoken at church, the chronic pain of a dysfunctional relationship at work. Mark it down. A Christian who is not confessional is in peril – a danger to himself and to the community (p. 100).
Perhaps during a season of dryness, when my heart feels parched and cracked, I ought to consider the possibility of my need for confession and repentance. Maybe, like Samson, I have not been attentive to the covenant relationship I have with God. Perhaps I have allowed myself to become worn down by the nagging temptations of the evil one.
Sometimes, confessing my sin and neglect may be the first step toward freshness and life again.
Question:
What have you found helpful during periods of dryness?