Book Review: Subversive Kingdom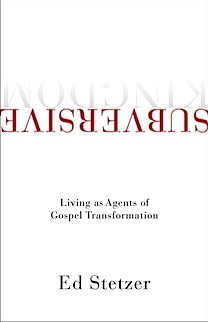 Ed Stetzer has written an interesting and inspiring book about the subversive nature of the kingdom.
What does it mean to be a part of the kingdom of Jesus? Stetzer pushes back against status quo Christian living by presenting a robust guide to help the reader imagine life in the kingdom of God. We are called to live a subversive life in that our loyalty has changed from one kingdom to another.
Stetzer suggests that the kingdom is not only a different way of thinking and living but also is a mandate for action.
What does it mean to be rescued? What does it mean for our kingdom loyalties to be changed? We respond by living subversive lives. We "rebel against the rebellion." Stetzer does a wonderful job of unpacking this.
He answers the questions so many of us ask as we consider the kingdom life. What are the implications of such a life? What does this look like in everyday, normal life? Again and again, Stetzer reminds the reader that the answers regarding the practical implications of the subversive life are found in Jesus and the Gospels. He invites us to think about the broken world and the mission of Jesus in this world and, consequently, the mission that the church carries out.
As one who teaches/preaches each week, I found his book particularly helpful. Far too often, Christians speak of the kingdom life with a vagueness that is difficult to grasp on street level. Consequently, the kingdom life remains a theory instead of a distinct lifestyle. I found the chapters "Uncommonly Good" and "Rules of Engagement" to be especially strong as Stetzer speaks regarding the power of the kingdom life in this world. He fleshes this out for the reader by providing a good picture of what this life might look like every day.
He concludes with the section "A Subversive Plan of Action." The book was helpful in expressing some of these issues in a concise, memorable manner. This should be helpful to the readers in general and to preachers who attempt to communicate some of these concepts to congregations. For example, he writes that there are two critical questions that should follow one's initial identification as a citizen of the kingdom:
What is the King's mission?
What is my role in the King's mission?
The book contains the wonderful vision of what the kingdom looks like when it is lived out on this earth. It is a reminder that the kingdom, unlike "conventional church," is robust and dynamic. In fact, the ordinary man or woman can live a significant kingdom life by simply following Jesus in the ordinary course of everyday living.
(Note: I received a complimentary advanced reader copy for review.)