Sometimes people look very silly trying to impress others. Have
you noticed this?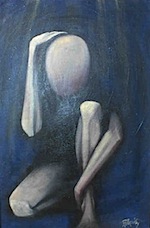 When I was sixteen, I was driving through a neighborhood after school. I passed by a sidewalk where girls from another school were walking home. I drove along, with music from my car blaring loudly, and trying to get the attention of two girls in particular. All of a sudden I heard the horrible of a wreck and at the same time heard the sound of glass breaking. I had just rear ended the car that was in front of me.
I now had the attention of everyone. Good grief! I felt ridiculous.
Sometimes, even as adults, we go to ridiculous lengths to convince one another that we are a step ahead.
Of course, there do seem to be some people who have a real edge. They are intelligent. They have social skills. They seem to be mature at 16 years of age. For others, growing up, maturing, and developing seems to take a lot longer.
Regardless of how mature or immature we happen to be, no one was ever created to live a self-constructed life. No one.
You may remember the man in Scripture who attempted to live such a self-constructed life. He focused on building bigger barns as he assumed he would continue to enjoy the life he designed. Meanwhile, God called him a fool and said that he would die that very night (Luke 12:13-21).
Humble people are those who let God be God.
Humility is not a word describing someone soft and passive. Rather, grace creates a vibrant humility that enables others to experience a life they could never construct themselves.
The following are three suggestions for living with humility:
Live with the understanding that we all desperately need God regardless.
No matter how smart we are.

No matter how skilled we are.

No matter how gifted we are.
Quit pursuing life as your own do-it-yourself project. No one is capable of constructing his or her own life.
Value humility as a real inroad toward personal change. After all, humble characterizes those who have finally learn that "my way" is not necessarily the best. After all:
My way of living can be self-destructive.

My way of living can be egocentric.

My way of living can be self-protective.
Question:
When was a point in your life when you realized that you were going to have to allow God to be God? (Instead of trying to take over.)