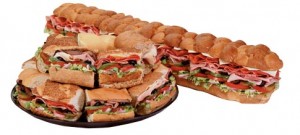 I was on my way to the office and had stopped at the nearest Subway to get a sandwich.  There were three or four people in line.  The man at the cash register was talking with a customer who was picking up an order he had called in.  The customer was a big guy.  He was loud and intense.
The Subway employee was attempting to complete the transaction at the cash register.  The "giant subs" this customer had ordered were boxed and on the counter.  It appeared these sandwiches were for a group of people.
The guy was complaining about the price.  The cashier responded in a normal tone of voice and was very polite and professional.  Meanwhile, the customer became more intense about the purchase.  He said that he wasn't about to pay the stated price and then demanded loudly that the price be adjusted to what he thought it should be.  He said that he had placed this same order a number of times in the past and it had been significantly less.
Then the guy said something that really got my attention:
"I've given you my tax exempt I.D. number and I know what the price ought to be!"
I cringed.  The guy was picking up something for a church.  Not only was he making a scene but he was letting everyone know that he represented a church.
Finally, the cashier adjusted the price, gave the guy some change back, and said nervously, "Uh, bless your church."
It is true that the customer may have been overcharged.
It is true that the situation would be frustrating.
It is also true that sometimes you may have to discuss with a store a discrepancy in price.
However, Christ-followers are called not only to use appropriate words but also to display an appropriate manner.
What does my manner say about me?
1.  Does my manner suggest that I am going to be reasonable and fair in the way I deal with others?
2.  Does my manner communicate that I sincerely want to treat another right even when I am frustrated?
3.  Does my manner reflect well on the community of people I represent?
4.  Does my manner reflect well on Jesus who dwells in me?