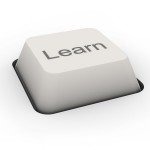 No doubt you have known some people like them.  They diligently prepare, study, and do their best to equip themselves with the best tools available.  Then they begin the ministry for which they have been preparing themselves.
For some reason, some of these leaders stop growing and learning. They no longer read and no longer engage themselves in serious thinking.
Contrast these leaders, however, with those who continue to grow and learn throughout their lives.  For example:
A 90-year-old man and former college president continued to take notes of various talks and classes at our church.  He often approached me with a pen in hand, wanting to know the name of a book that I recommended earlier.

Each summer, a 70-year-old minister spent one month at a seminary auditing classes.  He had been doing this for a number of years.  Both he and his wife traveled to the city, stayed in a dorm, and spent the month learning.  At one point, he told me that it had also been an important time for marriage renewal.

A minister in his late 60′s worked with a church in an urban center.  The predominant age groups in this church were the 20s and 30s.  I told him one day how impressed I was that he could continue to relate to such diverse age groups.  He told me that he had simply tried to continue growing and learning.
The leader who is a lifelong learner will bless his/her church or organization.  Think of your learning as an investment in your mind, your family, and in those whom you have the opportunity to serve.
Tomorrow, I will offer seven suggestions to anyone (and particularly a leader) who wants to be a lifelong learner.
Question:
Have you known people who impressed you as lifelong learners?  What were some of their practices?