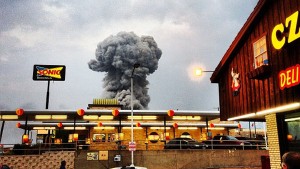 Last night, the world changed for many people in West, Texas.  Volunteer firemen were attempting to put out a fire at a fertilizer plant when a massive explosion rocked the entire community.  In fact, the shock of that explosion could be felt for miles.  Over 160 people were injured.  Authorities are still trying to determine the number of fatalities.
West is a small town with a population of less than 3,000 people.  It is a favorite stopping place for travelers between Austin and Dallas.  The Czech Stop is known for its kolaches. Many other people travel through this small community and hardly notice it.
Yet, years ago, F. L. Eiland went to West to visit a friend.  Eiland, who was born in 1860, loved music.   In 1898 he established the Southern Development Normal in Waco, Texas. This was a school where one could study theory, harmony, composition, and voice.  Eiland wrote a number of Christian hymns, one of which was composed that day when he traveled to West to visit his friend.
Eiland had been concerned about his friend's life.  His friend was a Christian who apparently had little regard now for the desires and teachings of Jesus.  Eiland went to his friend's house in West and tried to encourage him to live in obedience to Jesus again.  The conversation did not go well. Deeply troubled by his friend's attitude, Eiland went outside to take a break from the conversation.  While sitting outside under a tree, he wrote the words (or perhaps the music) to the hymn "Hold to God's Unchanging Hand."
I have always liked the refrain to that song: "Hold to God's unchanging hand."  It is a reminder that regardless of what happens in this life, including tragedies like the Boston Marathon bombing and the West explosion, God is constant and faithful.  He is unchanging.
Question:
When have you most needed a reminder that God is unchanging?