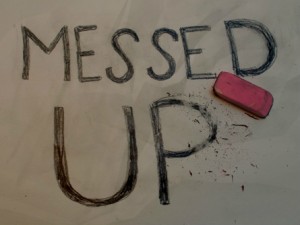 Most parents I know love their children and want to do a good job with them.  Many of these people will do most anything to give their children a head start in life.  Some will go to extraordinary lengths to give their children an advantage.
Yet, it is possible to parent in such a way as to make it difficult for them to grow up, mature, and live as Christ-followers.
The following are some ways to mess up your kids:
1.  Model before them a self-centered life.  Focus on yourself, your pleasures, your desires, and your preferences.  Teach them by way of your example that life is all about "me."
I was in a conversation with a woman who was abandoning her husband and children in order live her own life.  She wanted to believe that her leaving would have no long term impact on her children.
The reality is that our self-centered behaviors really do impact others.  They certainly impact our children.