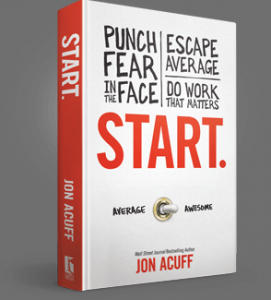 Jon Acuff has written a fine book entitled Start.  At one point in the book as he discusses fear he writes, "Stories without dragons are boring" (p. 64).  He says that in every story there is typically a villain of some sort. 
For many of us the villain in our lives is the voice that often puts fear in our hearts.
Fear can be paralyzing.  It can keep you from starting.
Fear can be deadly.  It can destroy your confidence.
Fear can be self-defeating.  It can cause you to severely limit yourself.
As a result,  you don't take the initiative.  You don't take risks.  You don't start.  Instead, you talk about "someday."
Someday is the day that never comes.
The internal voice of fear will stop you in your tracks and keep you from doing the very thing you know you need to do.
Fear will cause you to accept a status quo life instead of what God wants you to have.
Fear will keep you from pursuing your dream, and stepping out on faith.
Fear will keep you from addressing an obvious problem for fear you might fail.
Fear will keep you from starting.
Fear allows you to think that one day you are going to do this or that but to never make any attempt.
Fear causes us to be afraid as a congregation living in a world that is changing rapidly.
Fear will keep you from obeying Jesus.
Think about what we fear.