It was an embarrassing moment as a young minister.
Charlotte and I had been living in Abilene while I finished seminary. I had just completed my studies and moved to north Alab
ama where I began preaching for a church. Now, I was a full-time minister for a congregation.
I was overwhelmed and had no idea what to do. So, I began doing what many young ministers do: I watched several experienced min
isters to learn how to do this work.
One preacher I had been watching seemed to put a lot of energy into welcoming guests. He was at the large urban church near where I grew up. Some hotels get four and five stars for a rating. This church would probably rate five stars in somebody's review. People in my circ
le talked about this church as if they were the group that seemed to do most things right.
I did notice that they seemed to do things smoothly, unlike me. I handled things awkwardly at times.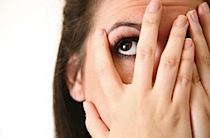 O
ne of my first Sundays I introduced a new family and asked them stand. After all, I had seen the minister at this church do the same. I then moved on to introduce another new family. Upon introducing them I asked them to stand. The couple stood, but I noticed the man had a puzzled look.
"Jim, I've been a member of this church for a number of years."
I froze. I wanted to hide.