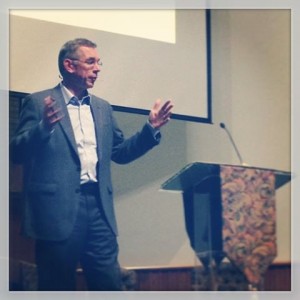 Sunday was our last day with the Crestview Church.
We have been a part of this church family for over twenty years.  Sunday was a day we will remember.  Our children Jamie and Cal as well as Christine, Phillip, and grandson Brody were all there.  We were joined by other special family and friends – people who shared the day with us.
We will remember Sunday for a long, long time.
Our congregation expressed to us their appreciation and affirmation in ways that we will always remember.  Charlotte and I were moved.
The special lunch, the beautiful decorations, and the thought that went into this day spoke volumes to us.
The hugs, video tributes, and the kind and affirming words meant so much.  All of this was very humbling but also encouraging.
We enjoyed the hilarious skit with the Duck Dynasty family (featuring some of our own, dressed up, complete with beards).  It was so good to laugh together.
Our church family even gave us a financial gift they had evidently collected prior to Sunday.
We went home exhausted but full of gratitude for such a special day.
Today, I am so thankful for:
1.  A wonderful congregation who made us feel loved, appreciated, and valued on Sunday.  We received all that they did as a precious gift.
2.  Individuals who recalled memories of times (both sweet and difficult) that we shared together.
3.  The way we have been blessed by these people for over twenty years.  They helped us raise our children and navigate life.
4.  The blessing of serving this church and community.  (I really mean this.  It was a blessing!)
We will soon be on our way to Memphis.  I will begin a new ministry with Harding School of Theology.  The next chapter of our lives will begin. However, we will continue to treasure these friendships, memories, and the blessing of serving God in this place.