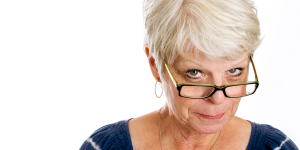 Now, of course, you might say, "Not me! No way I am even remotely an arrogant person." Sometimes we think of people who act pompous and immediately conclude that we are certainly not arrogant.
Yet, arrogance sometimes comes out in people who think they are:
Better.
This is the person whose idea of friendship is to associate with people who have something to offer him.  In other words, this person wants friends who in some way cause him to feel better than others.  Meanwhile, this same person may have no interest in being friends with someone who seems inferior.
Some people who are arrogant have little respect for the experience or knowledge of others.  They can quickly become self-appointed experts on preaching, finances, or building/remodeling.  A friend of mine once described another man as having a very pompous way about him.
Smarter.
This is the person who thinks she is a bit smarter than most.  In fact, she sees peers who have experienced serious moral failure as basically being weak or stupid.  In her mind, she is far too smart to ever become encumbered with such behavior.
To some, she seems almost reckless in her dealings with the opposite sex.  Sometimes she is flirty with men at work.  Her husband recently expressed his discomfort with texts that she sent to one co-worker in particular.  She believes that she is smarter than most people and that what she is doing at work is innocent fun.  She doesn't seem to be worried about temptation thinking she is far too smart to mess up her marriage.
More important.
Some people think they are more important than others.  Now they don't necessarily say this; however, this comes through clearly in talk.  Their friends are most often high profile people who make a lot of money, enjoy visibility in the community, or have a job title that commands respect.
This may be the minister who spoke about how the congregation couldn't do without him.  Or it may be the woman who was stopped by the police for speeding and wanted the officer to know that her husband was a prominent attorney in town. Or this may be a businessman who regularly drops the names of important people he ate lunch with this week.
Arrogant people are usually highly self-conscious people who are so focused on themselves and their image that they rarely take the time or energy to pay attention to another.
Question:
What might a person be missing in life by holding on to such an attitude?