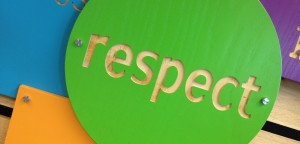 Respect.
I suppose it may not a word that immediately gets your attention.  Perhaps it doesn't have much buzz or flair.
Yet the importance of showing another respect is huge.
I've been thinking about it a lot lately.
A young husband is condescending to his wife, making her feel as if she is less intelligent than he is.
A teenager has a confrontation with his dad.  He tells his dad to "shut up" and walks away.  Thirty minutes earlier the boy was in a Wednesday evening Bible class.
A young woman is disrespectful to her mother-in-law, speaking to her in way that is demeaning and hurtful.
A man disrespects his wife, flirting with women at the office.  One woman at the office remarks, "You mean he's married?"
A minister degrades the elders to others in the congregation and then kisses up to them in an elders meeting.  Disrespect.
An older man in the church abruptly approaches a young minister and says something insulting and crude in front of a visitor.
I am not suggesting that people needed to be "nicer."