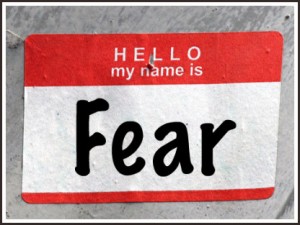 Fear is powerful.
Fear will stop a great idea.  It will shut down conversation. It will cause you to disqualify yourself from a new opportunity to serve.
I've certainly felt fearful, worried, and anxious.
This week I read a post on Michael Hyatt's blog regarding fear.  Jeff Goins has very openly talked about his own fears in becoming a writer. These are good posts about dealing with fear.
I suspect that fear, anxiety and worry are very familiar to most of us.  In fact, they are something we have in common with one another.  Whether we will admit it or not, we know these three companions.
What if the test comes back with bad results?

What if my child has to repeat a grade?
What if my company finds out that I don't know as much as they think I do?
What if I don't pass the test?
What if we get sued?
What if the economy completely collapses?
What if our company goes under?
What if I get laid off?
What if we have to move?
What if I take this job and then fail?
I can remember nights when I would be awake wondering what I would do when this or that happened.  I would lay in bed watching this drama play out in my mind.  Things generally look bleak at 3:00 a.m.  I was being ruled by fear.