Father's Day!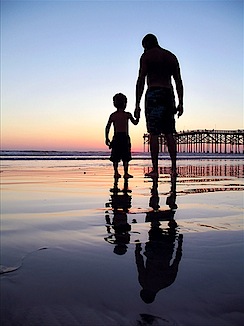 I am blessed to have two daughters, Christine and Jamie. Christine is married to Phillip and they are the parents of a little boy, not quite one year old. Jamie will be married to Cal in August. We are very proud of each one of them. Our family continues to change as we soon will not have not only two daughter's, but two son's-in-law.
I am grateful to be a dad. This morning, the Wall Street Journal had an excellent article on the importance of a dad in a daughter's life. Sometimes, dads underestimate their importance in a child's life. I believe that a dad can move from being good to being great by focusing on the kind of man he is becoming.
I want to suggest five ways to move from being a good dad to becoming a great dad.
Be a Lover
A great dad deeply loves his wife and children. His children listen and see his interaction with his wife. They know he is exclusively devoted to her. In turn, his children also experience an incredible love from their dad. His faithful love for his wife and for his children creates a safe, secure environment for his family.
Be a Person of High Character
A great dad models solid character before his children. This dad doesn't manipulate others for his own gain. He tells the truth, even when it may not be to his advantage financially. When in line for a ticket at the amusement park, this dad tells the truth about the age of his child, even though that ticket may him more money. This dad practices truth telling and honor in some might perceive to be the little things.
Be Loyal
A great dad models loyalty in his relationships. He can be trusted. His affection for his wife is exclusive. This dad is no flirt at work. His family doesn't wonder about who he is texting or privately meeting on Facebook. No, this dad has honor and is loyal to his family. He will not throw his family under the bus while he pursues his fantasy with other women.
Be Present
A great dad is present with his children. That is more than showing up at their ball games. Children know their dad is present by his eye contact and his active listening. Unfortunately, too many dads will not give their children complete eye contact. The television is always on and dad has one eye on the screen. Or, he constantly checks his phone as the texts come in. A great dad will turn off the television, the gadgets, and the phone in order to be fully present with his children.
A dad also communicates his presence by really listening to his children. Intently listening to our children really does increase the sense of connection that they experience. Looking back, there were times when our girls were at home, that I should have spoken less and listened more.
Be a Jesus Follower
A great dad, who claims to be a Christian, really does intentionally follow Jesus in his life. That is, he lives with the intention of carrying out his teachings at work and at home. He models this lifestyle before his children. This is not about the perfection of his life but the direction of his walk. This dad desires for his children to see what it means to be an authentic Jesus follower.
Question:
What would you add to this list?