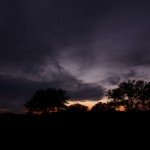 Good preachers occasionally reflect on this question:
What happened the night before?
Shortly after we moved to Waco, I began serving as a police chaplain for the Waco Police Department.  Practically, this meant that I rode with an officer one night a week.
One night, the officer I was with was called to a home near the school where my wife taught.  There had been a fight between a young woman and her boyfriend.  The fight turned into an assault. When the officer arrived at the home, the paramedics were already there.  It was on a Thursday past midnight.  Blood was on the floor and on the bed where the guy had cut his girlfriend.  She was in the bedroom receiving the attention of the paramedics.  Another officer arrived and they began taking statements from witnesses.
In a nearby bedroom, I saw four children, all elementary school age.  Their schoolbooks were stacked on a chest of drawers. The television was blaring in the living room.  It was almost 1:00 a.m. Six hours or so later, a school bus would stop nearby to pick them up.  I wondered what they would be like in their classes the next day after staying up so late, having the police come to their home, and witnessing their mother's assault.
On Sunday mornings, ministers need to occasionally think about what might have happened the night before (Saturday night) in the lives of the people to whom they are speaking.
The night before, a family was in turmoil, with children wondering what will become of their family.
The night before, a young single woman was planning to visit your assembly and felt anxiety wondering whom she would sit by and would she know anyone.
The night before, a guy spent much of the night by himself watching old movies.  Now on Sunday morning, he is anything but alert.
The night before, parents received a phone call informing them that their son had been arrested and put in jail for public drunkenness and resisting arrest.
The night before, a young high school girl had sex with a guy at a party.  Her parents thought she was elsewhere.
The night before, a discouraged, lonely widow thought about how difficult it was without her husband.
The point?
Sometimes we need to be reminded of the real life situations of the people hearing our message. We need to be reminded that life is often hard and complicated for people.  I think this just might impact the prayers and passion of the one preaching.
I want to encourage you to subscribe to my blog if you have not already.  You can subscribe by signing up to receive regular e-mail updates.  Or you can subscribe to receive these posts in your RSS reader.