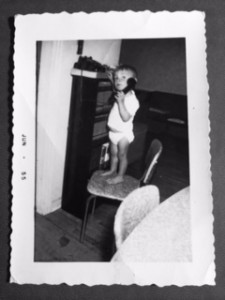 I was two years old when this picture was taken. My parents had just moved to Dallas from Little Rock.
Of course, I don't remember this moment. Nevertheless, this picture means a lot to me. At that moment my parents were a young couple who had moved to a big city with their two year old. Little did they know of the twists and turns their lives would take. Nor could they have imagined what life would be like for their toddler.
Years later, a variety of experiences would shape and form my life and forever impact me.
I would enter kindergarten. Mrs. Rich was my teacher. I would come away from that experience with good memories.
Just a few years later, I would have a brother and sister. I would live with my family of origin, go to college and then eventually leave and marry.
I would have moments of joy and also moments when I felt utterly defeated.
I would learn the story of God's love. I would be baptized. I would continue to grow in my faith as a part of a church community.
Years later, I would marry Charlotte and we would have two children, Christine and Jamie. We would spend much of our lives in Alabama, Missouri, and Texas.
Now, here we are with two grandchildren, two sons-in-law, and many great memories of the places where we have lived.
I never would have dreamed, even a few years ago, that we would live in Memphis and that I would be working with Harding School of Theology.
Why mention this?