Charlotte and I have been married for 33 years. I knew very little about marriage when we began. At this point in life, I am still learning.
I can tell you a few things I've learned about marriage.
1. I've learned that as a couple we need to put our relationships with God and our obedience to him first. I have learned that only when I give myself to him first can I experience real fulfillment. This takes tremendous pressure off our marriage.
2. I've learned to be quick to forgive. Sometimes I've been too slow to admit fault and ask for forgiveness. At other times, I've allowed annoyances to fester instead of maturely dealing with them.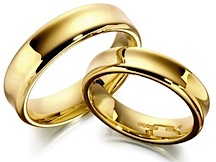 3. I've learned the importance of paying attention to one another. This can be a real challenge when there are so many distractions. Work. Children. Personal interests. Technology. Even some friends may detract a person from being attentive to a spouse.
4. I've learned the importance of having fun. That doesn't mean that a spouse has to constantly entertain the other. It is important to laugh together and to enjoy one another.
5. I've learned something about the critical importance of friendship with one another. It is so important that a husband/wife be friends who enjoy being with one another. That friendship can grow and flourish through shared experiences and caring for each other. Loyalty and trustworthiness can deepen such a friendship.
6. I've learned that mature people take action instead of passively waiting for something to happen. I did not get this in the early years of our marriage. I would sit in front of our television watching a ball game while the baby was crying, the house was a wreck, and the trash cans were overflowing. It can be very irritating to a spouse for you to ignore the obvious while you pursue your own interests.
7. I've learned something about the importance of belonging to a church. Besides worshipping God with other believers, our church has blessed our marriage. After all, in a congregation of Christians you are likely to find others who are serious about growing their marriages. You are also likely to find some older, wiser people who have been married longer and who continue to find joy in their marriages.
Question:
What would you add to this list?